Triplex Deck Equipment for New BOA AHTS Vessels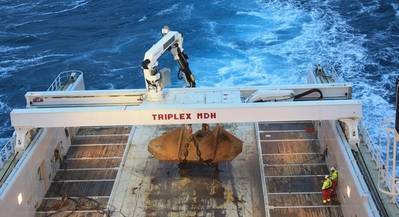 Triplex secures a new Triplex MDH 42 order from BOA offshore, including supply of Shark Jaws, Vertical Guide Pins & Spooling Block.
Triplex say that BOA is the third ship-owner in Norway to opt for the Triplex MDH multi-purpose deck handling equipment on its AHTS vessels. The contract is for 1+1 vessel of Wartsila VS 491 design, and the equipment is scheduled for delivery in January 2014.
"We are delighted that BOA has chosen Triplex Deck Equipment for its new AHTS vessels", says Offshore Sales Manager at Triplex AS, Even Kippernes. "This is the ultimate deck equipment for anchor handlers. The Triplex MDH can lift, move and park heavy anchors up to 42 tons and pull heavy chains and grappling hooks weighting up to 30 tons."
The MDH-system also consists of a wide range of SAFE AHTS equipment that ensures maximum safety for deck hands. This includes a separate wire clamp for controlled spin-out of twisted wires, a dedicated manipulator arm for fine operations, two cameras, floodlights and different manipulator tools that among other things catches buoys and pennant wires automatically.

The MDH version for BOA will also be prepared for the Triplex 5t Tractioner for efficient handling of polyester mooring lines up to 260mm. Another new development is that these MDH can carry and launch observation ROVs and Oil Recovery Equipment.

Regarding the Shark Jaws, these can now be delivered with a unique Load Measurment System (LMS) which gives the winch operator full load control.