MSC Savona Equipped with GL SeaScout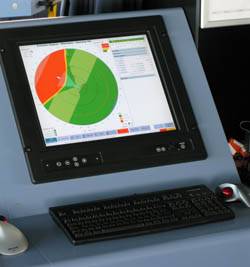 GL SeaScout 2.0 has been installed on board the MSC SAVONA, Reederei Claus-Peter Offen's 14,000 TEU containership. GL Maritime Software's navigational decision-making support system will help the vessel to optimise routing; minimising voyage costs while maintaining safe passage, however seaway and weather conditions might vary.
GL SeaScout is an integrated onboard system that provides ship's officers with decision-making support. By combining advanced computations with seaway measurements, wave and weather forecasts, cargo data, and other signals, GL SeaScout informs a ship's officers of how a ship is responding to the current conditions. It also shows alarms and warnings when there is a risk of extreme motions, including rolling, slamming, and bending moment, and allows the officers to simulate different speeds and courses. In this way it assists in choosing a speed and course that are optimised for the particular ship's hull, taking account of the prevailing seaway and loading conditions of the ship.
On board the 14,000 TEU containership, the GL SeaScout installation will interface with a state-of-the-art radar based wave measurement system to provide the most accurate results. GL SeaScout will be fully integrated into the ship, so that access to weather forecast and navigational data is established via the ship's network. The GL SeaScout workstation is built directly into the bridge console.
The GL SeaScout installation on the MSC Savona will contribute to a joint development project between GL and Korean shipyard DSME (JDP Springing & Whipping) to permanently record environmental conditions. The objective of this long term measurement campaign is to collect data for GL's ongoing rule development. Additionally, the information will be used by FutureShip, a GL company, for the validation of numerical simulation methods with respect to whipping and springing phenomena.