Alu Design Delivers Ergonomic Designs for Aker Solutions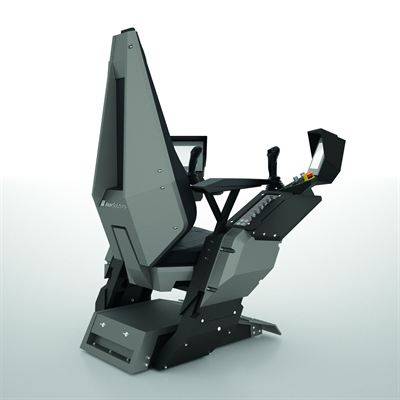 Alu Design & Services (Alu Design) has been selected by Aker Solutions to help design the state-of-the-art MH OCH 300 operator chair.

The MH OCH 300 offers a new ergonomic standard for users, delivering comfort and a robust, intelligent working environment, with a slim profile to make the most of the restricted space in Drillers Cabins. Fully integrated instrumentation is placed intuitively and is easy to use due to touch screen technology, low force joystick control and throttles for control of mud pumps and top drive. The chair's modular construction and moulded aluminium parts make it simple to install and maintain, and easily adaptable for different drilling environments. "This chair sets a new industry standard," commented Einar Ulrichsen, Alu Design's CEO. "There hasn't been any significant steps forward in the operator chair sector for years and Aker Solutions took note of that, impressing us with their desire to create a new kind of product to service the needs of operators, both now and in the future. "The MH OCH 300 has been created with complete focus on the end-user – providing them with the best quality working environment and supreme levels of comfort. We are very proud of our involvement alongside Aker Solutions and the other partners in this project."
The MH OCH 300 is an Aker Solutions product. Alu Design designed the chair and provided technical solutions. Leading Scandinavian design outfit Hareide Designmill worked on the project in the role of overall designer and fellow Norwegian agency Studio Eik provided 3D modelling and engineering work. Leif Larsen of Aker Solutions held the position of project leader for the design of the MH OCH 300. He commented: "We listened to customer feedback about what was in the market, and made improvements to the comfort, stability and operational performance of the chair. This new operator chair is safer and features enhanced functionality such as new and improved screens and new joy sticks." "We took all this into consideration at the beginning of our product development journey and focused on finding the best partners to help us deliver, quite simply, the best, most efficient chair on the market. "The MH OCH 300 provides the user with a better operational experience than before, giving them comfort, convenience and completely intuitive access to controls.
The product is available for immediate orders, with the first deliveries expected in Q3 2012. Aker Solutions and Alu Design have successfully collaborated on a prior project, working together to produce an aluminium crane cabin chair in 2010.