Euronav Q1 2011 Results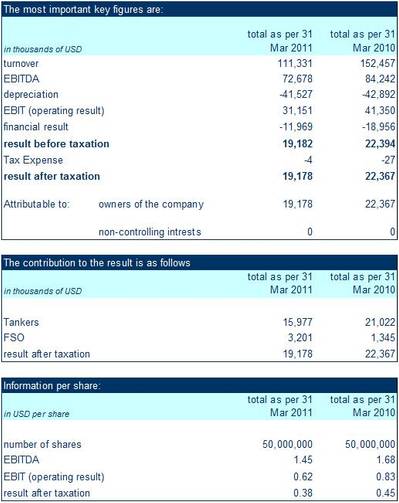 The executive committee of Euronav NV (NYSE EURONEXT: EURN) reported its preliminary financial results for the three months ended 31st March 2011.
For the first quarter 2011, the company had a net income of USD 19.2 million or USD 0.38 per share (first quarter 2010: USD 22.3 million and USD 0.45 per share). EBITDA for the same period was USD 72.7 million (first quarter 2010: USD 84.2 million). The result is affected positively by the revaluation at marked-to-market levels of non cash items such as hedge instruments on interest rates and rate of exchange for a total of USD 5.2 million.
EURONAV TANKER FLEET
On 3 March 2011, Euronav delivered the Pacific Lagoon (1999 - 305,938 dwt) to its new owner. The capital gain on this sale's transaction of USD 22.1 million has been recorded in the first quarter of 2011.
The time charter party of the
Suezmax Fraternity
(2011 – 157,714 dwt) has been extended for 14 months in direct continuation of the existing contract as from 7 April 2011. The time charter party of the Cap Philippe (2007 – 158,920 dwt) has been extended for up to 40 months as from the third quarter of 2011.
THE TANKER MARKET
The first quarter of 2011 has been overall very volatile on both the Suezmax and the VLCC market. The market is still affected by an oversupply of ships which is not met by a sufficient increasing demand.
In the first stage of Japan's disaster recovery, lower economic activity will cut
oil demand levels
, partly offsetting the rise in fuel oil and crude consumption. Oil demand should however rise faster in the second half of this year, as reconstruction efforts boost the Japanese GDP.
The unrest in the Middle East in general and more particularly the situation in Libya had a positive impact on the freight markets and more particularly on the Suezmax market.
OUTLOOK
Following seasonal trends the market has softened significantly in recent weeks but at rates lower than expected.
So far in the second quarter, Euronav VLCC fleet operated in the Tankers International pool has earned on average USD 31,700 per day and 33% of the available days have been fixed. On that basis, management remains cautious for the rest of the year.