Coast Guard Evacuate 78 From Blazing Fishing Vessel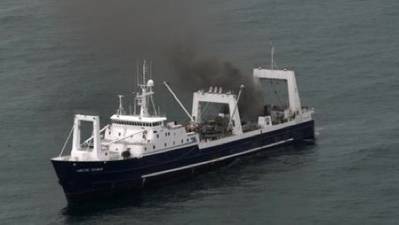 Crewmembers aboard the 314-ft fishing vessel 'Arctic Storm' extinguised an engine-room fire using the ship's Halon chemical firefighting system.

The Coast Guard continues to respond to the vessel approximately 30 miles west of Grays Harbor, Wash.
A Coast Guard MH-60 Jayhawk helicopter crew from Coast Guard Air Station Astoria and two 47-foot motor lifeboat crews from Coast Guard Station Grays Harbor monitored, while 'Good Samaritan' vessels evacuated 78 of the 120 personnel to commercial fishing vessels Northern Voyager, Golden Alaska, Sea Dawn and Excellence. Evacuated crewmembers are scheduled to be transported to Westport, Wash.
A tug is enroute to tow the Arctic Storm to Aberdeen, Wash.
Arctic Storm is reported to contain approximately 188,000 gallons of diesel fuel. No pollution or injuries have been reported. The Coast Guard report that the Washington Department of Ecology has been notified and is standing by to assist, if needed.

The Coast Guard will conduct an investigation into the cause of the fire.