Passenger Evacuation at a Push of a Button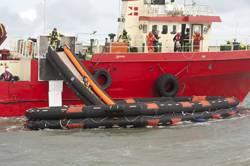 Evacuating large numbers of passengers is now easier than ever with the new VIKING fully automatic liferaft and slide system.
Marine and fire safety equipment leader VIKING Life-Saving Equipment has developed a 153-person, open reversible liferaft and mini slide system packed into a single aluminum stowage box. Named the VAS (VIKING Automatic Slide), and designed and certified for vessels on domestic voyages such as ferries sailing in protected waters, the liferaft and slide system enables crew to evacuate up to 153 people in one go.While its size and evacuation capacity may be impressive, the real magic of the new system lies in its one-button, one-person release and operation.
"In difficult circumstances, and particularly when things need to happen as fast as possible, the ability to have just one crew member operate the entire evacuation system for such a large number of passengers is a major advantage," says Niels Fraende, Sales and Marketing Director at the company's headquarters. "That's really quite amazing when you think how many crew it typically takes to deploy more conventional safety equipment".
The VIKING Automatic Slide is designed for evacuation heights of 1.5 – 3.65 meters and requires no external power supply for deployment. Inflation of the system is automatically started by pushing a button on the stowage box or on the bridge. Another vital feature is automatic bowsing, which keeps the slide and raft close alongside the ship to assist ease of disembarking.
The VAS system is also very easy to install. It comes in a box that's placed flush with the ship side, bolted to the deck and ready to go. No bowsing lines or welded connection points on the side of the ship's side are necessary.
The system is approved on sea trial with significant wave height of 1.5m with DNV as notified body. The liferaft is EC type-approved (EC Directive 96/98/EC with DNV as the notified body) for use in restricted areas, defined by the national administration. The system, the associated slide, the liferaft and all equipment complies with ISO 9001 requirements for quality assurance in design, development, manufacture, sales and maintenance.
The first two VAS systems have already been sold to Färjerederiet in Sweden with delivery during September 2011.