Viking's New Small Chute Evacuation System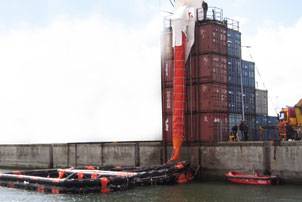 Viking Life-Saving Equipment introduced a new chute-based automatic evacuation system. Viking's new Evacuation MiniChute System has four times the reach in each container. Aimed at small and medium-sized, doubled-ended ferries sailing in protected waters, Viking's MiniChute System is a lightweight, compact solution that can be installed almost anywhere on deck. Each container features two, 153-person open liferafts that are already installed to the chute, enabling the entire system to be remotely released by one crew member.

The Viking MiniChute System has a DNV-approved evacuation capacity of 306 people within 17 minutes and 40 seconds (High Speed Craft). The new system is neutral at 10° trim and 20° list conditions and features high-specification electrical bowsing winches and has a 13.8-ft to 47.6-ft reach.

"Many passengers find it much easier to jump down a chute," said Christensen. "The impression of an enclosed environment is more comforting than going down a slide where you can see everything. It can really make a difference, especially in heavy weather."

A simple slip hook pull is all that is needed to release and operate this Viking evacuation system, freeing up crew to assist evacuation flow elsewhere. One winch creates just the right pull in just the right places to ensure the liferaft is swiftly, safely and easily pulled into place and ready to receive passengers.