Crystal Cruises Plans Return to Port Everglades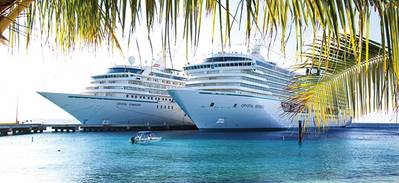 Crystal Cruises' ships will return to Broward County's Port Everglades beginning in Fall 2017, having last sailed from the port in 2006.
Beginning October 27, 2017,
Crystal Serenity
and
Crystal Symphony will
sail a total of eight sailings to and from Port Everglades, one of the world's busiest cruise ports, with more than 3.7 million passengers in 2015. Nine cruise lines, one ferry and more than 40 cruise ships sail from the South Florida cruise port.
"Fort Lauderdale is an ideal fit for our ships, itineraries and discerning guests, with its close proximity to an international airport and reputation for outstanding service that mirrors Crystal's own," said Crystal President and CEO Edie Rodriguez. "With these things in mind, we are relocating select fall sailings and look forward to working with Port Everglades to expand our itineraries in this market."
"We are already working with Crystal Cruises' outstanding team to ensure every sailing from Port Everglades is exceptional," said Port Everglades Chief Executive & Port Director Steven Cernak.