Excelerate Energy Orders FSRU Vessels from DSME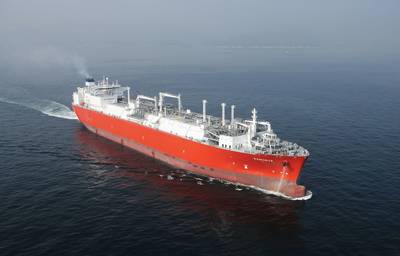 Excelerate Energy enters Into a shipbuilding option agreement with DSME for 8 New Floating Storage and Regasification Units (FSRUs).
The option agreement with Daewoo Shipbuilding and Marine Engineering (DSME) is for the delivery of up to eight Floating Storage and Regasification Units (FSRUs) between early 2015 and early 2017.
The agreement gives Excelerate, the world's largest operator of regasification vessels and developer of LNG import solutions, an increase in the size of its existing fleet of nine FSRUs as global demand for LNG import solutions continues to expand rapidly.
The initial options are for 173,400 m3 LNG FSRUs that will measure 294 meters in length and 46 meters in width and will be capable of a baseload send-out capacity of 800 MMcf/d with peaking capacity in excess of 950 MMcf/d.
The FSRUs will be based on Excelerate's ninth FSRU under construction at DSME and committed to the Petrobras VT3 project. The company has the option for smaller or larger capacity vessels depending on the future requirements of the market. The new vessels will incorporate Excelerate Energy's proven Energy Bridge™ technologies and will represent the largest and most capable FSRUs in the world.
Excelerate has developed and commissioned six LNG import facilities worldwide, with a seventh facility entering service in the fourth quarter of 2012 and an eighth terminal currently in advanced stages of development in Puerto Rico. Looking forward, Excelerate has a significant project development portfolio for both floating regasification as well as floating LNG production projects. The additional vessels will support the advancement of these projects.