McCain Pushes Jones Act Exemption for Puerto Rico Again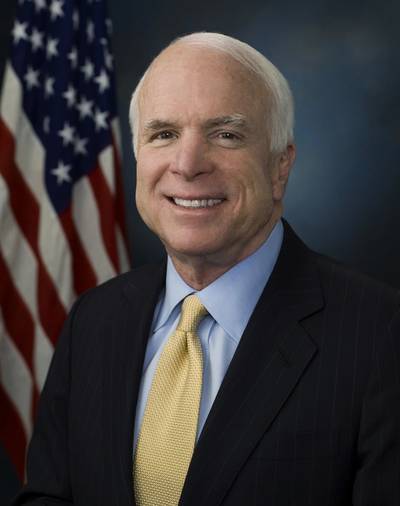 U.S. Senators John McCain (R-AZ) and Mike Lee (R-UT) this week introduced legislation that would permanently exempt Puerto Rico from the Merchant Marine Act of 1920, or the Jones Act, to aid recovery efforts in the wake of Hurricane Maria and encourage long-term economic growth.
The Trump administration's 10-day Jones Act waiver for Puerto Rico, despite the presence of more than enough U.S. flag tonnage to handle any and all relief sealift needs, gave McCain the opening he needed to reintroduce legislation that he has, on many prior occasions, brought to the Senate.
The Jones Act requires that all goods shipped between waterborne ports of the United States be carried by vessels built in the United States and owned and operated by Americans.
"While I welcome the Trump administration's Jones Act waiver for Puerto Rico, this short-term, 10-day exemption is insufficient to help the people of Puerto Rico recover and rebuild from Hurricane Maria," said Senator McCain. "Our legislation would permanently exempt Puerto Rico from the Jones Act, an antiquated, protectionist law that has driven up costs and crippled Puerto Rico's economy. For years, I have fought to fully repeal the Jones Act, which has long outlived its purpose to the benefit of special interests. It's time for
Congress
to take action, end this injustice, and help our fellow citizens in this time of need."
Separately, U.S. flag interests and Jones Act operators have spoken out against the proposed legislation. The domestic U.S. merchant fleet consists of approximately 40,000 hulls of every shape, size and type. Supporting that fleet are 124 active shipyards in 26 states employing 110,000 workers, producing $9.2 billion in labor income, and $10.7 billion in
gross domestic product
, or GDP, to the national economy. According to the U.S. Maritime Administration, economic activity associated with the industry reached 399,420 jobs, $25.1 billion of labor income, and $37.3 billion in GDP in 2013 alone. More than 210,000 American credentialed mariners man those 40,000 hulls. McCain's latest proposals threaten to dismantle all of of it.
McCain has for decades working to repeal the Jones Act. In 1998, Senator McCain sponsored legislation that was signed into law to provide an administrative process for obtaining a Jones Act waiver for certain foreign vessels to trade between U.S. ports, eliminating the previous requirement for Congress to pass legislation for every waiver. In 2010, Senator McCain introduced legislation to fully repeal the Jones Act. He reintroduced the same piece of legislation in 2015 and again this July.
Earlier this week, Senator McCain sent a letter to Department of Homeland Security Acting Secretary Elaine Duke urging the department to waive the Jones Act for Puerto Rico to aid recovery efforts in the wake of Hurricane Maria.