New British Warship Exercises with US Carrier Group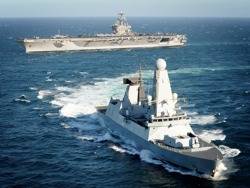 Aircraft carrier USS Carl Vinson works with new HMS Daring to exercise air defence capability
HMS Daring has been working with the USS Carl Vinson and her impressive air wing of fast jets to test Daring's Sampson radar and control system which allows multiple targets to be tracked over ranges of up to hundreds of miles. That information is fed to the Aster missiles in the silo on the ship's forecastle. With the long-range radar, Daring can track many thousands of air contacts, giving her unprecedented surveillance of huge areas of airspace.
Such radar air defence capabilities make Daring a valuable asset for a US Carrier Strike Group, providing a comprehensive air picture of the complex Gulf airspace:
HMS Daring, the first of six cutting-edge Type 45 destroyers, has been exercising with the US Carrier Strike Group One naval force in the Gulf to develop integration, which has included exchange of sailors with several American warhsips, allowing the two navies to share expertise and ideas and forge good working relationships.
The Carl Vinson leads US Carrier Strike Group One, while the Abraham Lincoln is the flagship of Group Nine; there are 11 such groups in all, each comprising one carrier, one cruiser, two destroyers, one hunter-killer submarine and a support ship, plus an air group of more than 60 jets, helicopters and piston-engined aircraft.