Norsafe Exhibiting Record Breaking Lifeboats at ONS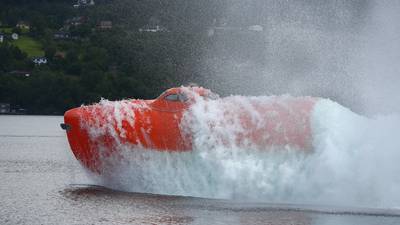 Norsafe, a leader in marine life-saving equipment, will be showing its world record breaking freefall lifeboat at the Offshore Northern Seas (ONS) show in Stavanger, August 29, to September 1, 2016.

The GES 50 MKIII broke the world record on June 25, 2015 when the 70 passenger model was dropped from 40 meters with ten people on board.

Since then the same lifeboat has been dropped several more times from this height, demonstrating the quality of design and workmanship by Norsafe' dedicated and skilled workforce.

"Accidents at sea are all too common so it is important for offshore operators to recognise that having a safe and reliable means of evacuating their workforce is literally a matter of life and death," said Øystein Schultz Sandberg, Vice President of Sales at Norsafe.

"Our lifeboats are built to last and, provided regular maintenance checks are carried out, will perform as intended time and again," he added.

Norsafe's quality range of life saving appliances is backed up with comprehensive tiered servicing packages to suit all budgets.

For more information about Norsafe's products and services visit the company's outdoor stand at ONS, number 55.