Jet Edge Exhibiting Latest Waterjet Technology at FABTECH 2012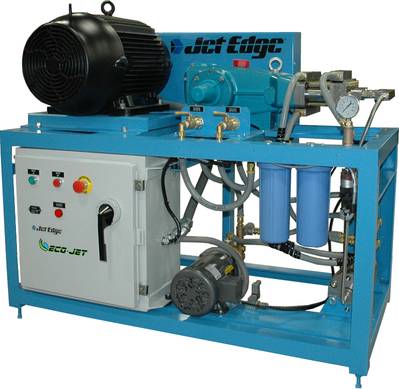 Jet Edge, Inc., will introduce its latest advancements in waterjet cutting technology at FABTECH, Nov. 12-14 in Las Vegas.
During FABTECH, Jet Edge will unveil its new Permalign® EDGE taper control and bevel cutting technology and eco-friendly ECO-JET direct drive waterjet pump. Jet Edge's live water jet cutting demonstrations will feature Jet Edge's premiere 90KSI (6200 bar) X-Stream-powered Mid Rail Gantry waterjet system with Permalign® EDGE taper control and bevel cutting capabilities. The system also will demonstrate advanced closed loop filtration technology that reduces water consumption, eliminates the need for a drain and chills the water to extend component life.
In addition to machine demonstrations, Jet Edge technical experts will lead FABTECH educational presentations about waterjet cutting technology. Jet Edge Regional Manager Bradley Schwartz will present Jet Edge's new ECO-JET waterjet pump technology in the FABTECH Theater from 1-1:30 p.m. Nov. 12, and Jet Edge Regional Manager Jeff Schibley will present "Increasing Waterjet Productivity with X-Stream Pressure Technology," from 11:50 a.m.-12:30 p.m. Nov. 13.