Unicool Range Expanded To Meet Customer Demands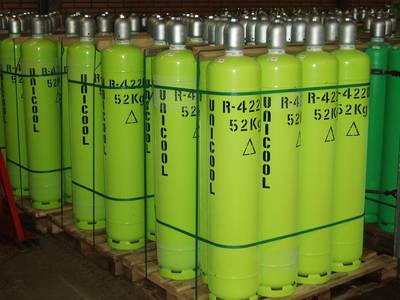 Wilhelmsen Ships Service introduces Unicool R-422D and Unicool R-427A

As ozone-depleting refrigerants are in the process of being phased out around the world, vessels are changing their refrigeration systems to meet the new legal requirements.

The challenge for the business is to navigate through the jungle of replacement alternatives offered from the world-wide chemical industry. As market leader for marine refrigerants, Wilhelmsen Ships Service has, through a series of activities like "Catch R-22", prepared the industry for this change.

After performing in-house tests, Wilhelmsen Ships Service decided on Unicool R-417A as a cost-efficient option for replacing R-22 in direct expansion systems across a variety of applications. However, although Unicool R-417A is suitable for customers that prefer to use a single alternative, there are several operating vessel types (such as passenger ships) that call for optimal performance in a variety of large cooling system applications. In order to stock the ideal replacement alternative for each system, some customers need to carry several different types of refrigerants onboard.

Acting on such requests Wilhelmsen Ships Service has expanded its range to include Unicool R-422D (ICEON® 29 by DuPont) and Unicool R-427A (FORANE® by ARKEMA). For customers who now have different refrigerant types on board the same vessel, all Unicool cylinders are clearly colour-coded and labelled to prevent the crew from charging the wrong gas into a system.

Source: Wilhelmsen Ships Service