UASC Targets Expansion to Beat Container Market Blues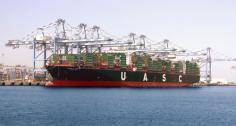 UASC expects to reach volume of 2.35 mln TEU in 2014
Global carriers still struggling with weak conditions

United Arab Shipping Company (UASC) is on a major expansion drive, investing more than $2 billion in bigger ships and forming alliances with peers to boost efficiencies and ride out tough markets.

The shipping industry has been battling overcapacity, linked to a glut of new vessels ordered during a boom period before the global financial crisis of 2007-2009, forcing operators to look for ways to overcome one of the worst slumps on record.

Despite the oversupply, companies are looking to ditch older and smaller container ships for fewer but larger ones - aiming to command better economies of scale and cut fuel costs.

"Size matters in this business," said Jorn Hinge, the Middle East group's chief executive and president. "We are in expansion mode," he told Reuters in an interview.

"With the economic disasters of the past number of years, it has not exactly been good for consumer confidence. Although container trades are growing, they are growing at a lot slower pace than people had planned for," he added.

Container ships transport consumer goods such as electronics and food in metal boxes, with a standard length of 20 feet (6 metres), known as TEU (20-foot equivalent units). The world's biggest container group Maersk Line, with nearly 600 vessels, carried 17.6 million TEU in 2013.

Hinge declined to provide details on profits, but added that UASC expected to reach a volume of 2.35 million TEU in 2014, a rise from 1.8 million TEU carried in 2013 and 1.6 million TEU in 2012.

"Once all newbuildings currently on order have been delivered, we estimate annual volumes of 4 million TEU," he said.

UASC has 17 container ships on order for delivery between 2014 and 2016 -- the first to be supplied in November -- with a total contract value of $2.3 billion, the company said.

These include six 18,000-TEU ships, known as Triple-E vessels and the largest in the world by capacity, each almost as long as four soccer pitches. Maersk was the first carrier to order such vessels and more lines have followed suit.

Hinge said the order for Triple-E vessels was made in cooperation with China Shipping Container Lines Co Ltd (CSCL) , which will buy five separate Triple-E ships. The two groups have a joint arrangement to share the vessels, helping to build further scale.

Attempted tie-ups between shipping rivals have gathered pace in recent months. A planned service-sharing alliance between Maersk Line and the world's number two and three players, Swiss firm Mediterranean Shipping Co and France's CMA CGM, collapsed in June following opposition from China's anti-trust authorities.

Following that failure, CMA CGM announced in September a new alliance with UASC and CSCL.

Analysts expect UASC's expansion efforts will enable it to punch far above its weight. According to consultancy Alphaliner, UASC's market share, based on fleet capacity, is estimated at 1.9 percent. Maersk, at the top end, is estimated at 15.3 percent.

"In a hugely tough 'box ship' market today, economies of scale are vital to achieve the necessary savings and maximise tonnage carried on routes," said Andrew Preston, shipping partner with law firm Clyde & Co.

"Conversely, there is always room for smaller operators with greater penetration and the ability to service less busy routes and regions."


New Markets
Like many carriers, UASC has focused on the Asia-to-Europe route -- a source of major container volume given China's growth in recent years and consumer markets in Europe.

Hinge said UASC was looking to enhance its presence in other markets including South America, forming a cooperation agreement with Germany's Hamburg Sud last month.

"We give space to Hamburg Sud on the East-West trades and they give space to us on the North-South trades. Thereby, we achieve the same goal but without investing in additional assets and creating more capacity in the market," Hinge said.

Hamburg Sud, which already has a big presence in South America, announced in July that it would acquire the container operations of Chilean line CCNI.

Germany's Hapag-Lloyd and Chile's Compania SudAmericana de Vapores secured conditional European Union approval in September for their tie-up to create the world's fourth-largest container shipping company.

UASC, founded in 1976, has corporate headquarters in Dubai, and is owned by the governments of the United Arab Emirates, Bahrain, Saudi Arabia, Kuwait, Qatar and Iraq. Qatar holds a 51 percent stake in the group, which owns and operates a fleet of 56 ships, excluding the current orderbook.

In April 2013, UASC suspended all services to and from Iran due to a tightening of sanctions imposed on Tehran by Washington and Brussels over its disputed nuclear programme.

Hinge said the loss of the Iran trade had hit carriers operating on the Middle East Gulf route as volumes had fallen, adding to wider market pressures they face.

"Many carriers are suffering from that now," he said. "This is a part of being in liner shipping."
(By Jonathan Saul, Editing by Dale Hudson)