Ocean Tugboat Fleet Expansion by Foss Maritime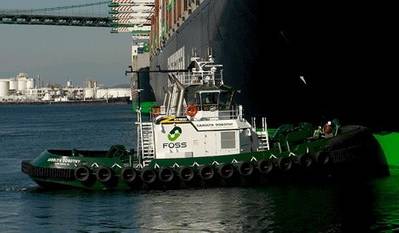 Tug and barge operator, Foss Maritime, to build three Arctic Class deep-sea tugs at Northwest shipyard.

Responding to new oil and gas industry opportunities, Foss Maritime Company will build the first three tugs in an innovative Arctic Class of tugs, a fleet expansion that broadens its capacity to take on large projects in extreme environments.

Construction on the first tug starts in early 2013 at Foss' Rainier, Oregon shipyard, work which will bring additional jobs to the growing Columbia River facility.

Specifically, the new tugs will meet:
• American Bureau of Shipping (ABS) A1 requirements, including standards for hulls, machinery, towing, anchors and cable;
• American Bureau of Shipping (ABS) Ice Class requirements
• International Convention for the Safety of Life at Sea (SOLAS) requirements, including an on-board rescue boat and davit; and
• Green Passport, which requires an inventory of shipboard hazardous materials that make decommissioning of vessels far safer.

Gary Faber, Foss' President and Chief Operating Officer said: "The new tugs have been designed to withstand the rigors of Arctic operations and are suited to work across the globe. The new tugs will position the company to compete for opportunities in the oil and gas industry. Currently Foss has five assets committed to an Arctic offshore exploration project in the Chukchi and Beaufort Seas and looks forward to providing additional assets in the Arctic. Several oil and gas customers are expected to perform similar projects in the region during the coming years, and Foss will be positioned to provide services and support with tugs, landing craft, crew boats and barges."

Faber added that additional ABS classed tugs and support vessels are already under consideration.