CTruk Unveils Expansion Plans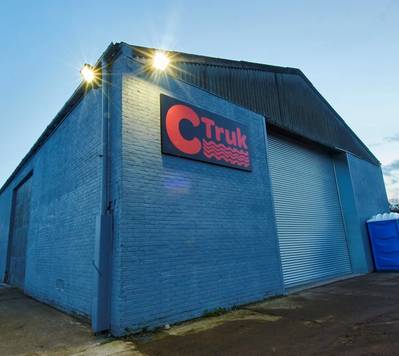 Bigger boats for offshore wind and much more as company looks to sustainable growth
CTruk held an informal launch event at its new Colne Estuary site on The Hythe, East Colchester yesterday, sharing its plans for expansion to guests and staff.
The company will use the old Fieldgates site on Haven Road to build the larger vessels required for offshore wind farm projects further out to sea and will move some production activity over in January 2015. CTruk's current facility in Brightlingsea lacks the space and waterside access needed to build and launch larger craft.
Company chairman Pete McIntosh also outlined CTruk's ambitious plans to build an Advanced Composite Technology Center, subject to capital grant support through Round 6 of Regional Growth Fund. The center would incorporate a brand new production facility, offices and training center, creating more than 120 new private sector jobs, including 15 apprenticeships, over the next few years.
McIntosh said, "CTruk intends to continue driving U.K. innovation in marine vessel design and to remain competitive in a changing market. This new center will enable the company to diversify and grow sustainably, meeting our aspiration to be more than boat builders."
He added, " If we are able to transform this long-derelict site into a vibrant manufacturing hub, it will not only create new jobs at CTruk, but it will also have a ripple effect of indirect job creation in our
supply chain
and the local community as the workforce moves in and grows."
During the event supporters of the proposed project, including representatives from Colchester and Tendring Councils, Essex Chambers of Commerce, the University of Essex, Colchester Institute and the Haven Gateway Partnership, expressed their hopes that the return of a marine based industry to this former port area will act as a stimulus for further new business and provide opportunities for existing companies to supply and support the CTruk development.
Ian Vipond, Strategic Director, Commercial and Place for Colchester Borough Council, commented, "There has been a long tradition of boat building on the River Colne and we are thrilled that CTruk will be continuing this legacy by bringing their firm to the Hythe. We are excited at the chance to develop a skills base for this new technology, with expert training and new job opportunities being brought to the borough by the firm. We hope this industry will provide a catalyst for regeneration in the local area, with the prospect of economic benefits radiating through East Colchester and beyond. Colchester Borough Council would like to welcome CTruk to their new location and wish them every success for the future."