NISI Xpresso Yacht Exceeds Performance, Styling Expectations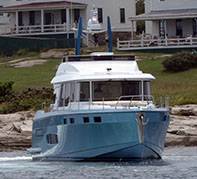 NISI Yachts launched its 1700 Xpresso yacht (17m/58') for her new owners in New Hampshire this week.


The 1700 is the first model to be released in NISI's Xpresso series. Recent sea-trials yielded 41-knot top and 33-knot cruise speeds. She is driven by twin UltraJets, mated to 1,150hp CAT C-18 engines. The builder reports Cummins Zeus and Volvo IPS pod propulsion systems are available.


Acquired by New Hampshire ex-governor Craig Benson, a successful American entrepreneur, politician and philanthropist, Benson expressed his pride in joining the NISI family, who emphasize traditional values of integrity and passion.


"After years of enjoying my Hinckley, upon delivery, we saw our new NISI and fell in love" said Benson. "She is fantastic - 40 knot performance with flybridge, a beach house on the water with amazing space and headroom. Fully thought through, she came completely decorated, even down to the elegant towels and sheets. New England cruising will never be the same."


Infusing a motor yacht, sport cruiser and down-east boat into one incredible design, 1700 Xpresso seamlessly unites the lines of the past with the shape of the future.


"Advanced use of carbon fiber, her classification and custom-designed electronics and navigation system make 1700 Xpresso one of the most exclusive and highest performing yachts of her size in the market," says Christos Livadas, Founder and CEO of NISI Yachts. "An investment of this magnitude results in an elite yacht of the very highest quality." Casual opulence is delivered with a stylish layout arrangement that highlights NISI's trademark fusion of indoor and outdoor spaces, transporting a Hamptons-esque lifestyle seamlessly from land to water. Vanishing salon doors blend the aft deck with the main deck, sacrificing neither space nor comfort. Teak hardwood floors running the entire length of the main deck complement this ingenious design, which also features three spacious staterooms to accommodate five guests, a separate dedicated pantry area, and a secure, cozy flybridge with excellent sight lines in every direction.


"Everything on 1700 Xpresso is painstakingly engineered for peak performance and safety. Absolutely nothing has been overlooked or under built," says Andy Huang, NISI design engineer.


"She is a lightweight, long-range cruiser built using techniques, materials and methods normally reserved for megayachts. NISI's investment in high-quality materials, extensive carbon fiber throughout, technologies and safety systems exceed industry standards for yachts of this size. Coupled with great care to combine style, details and simplicity, the innovative end result is proudly, NISI."


While standard NISI models are outfitted with Pod propulsion, to suit his Northeastern cruising requirements, the owner opted for twin Caterpillar C-18s, delivering a total of 2,300 horsepower, mated to an UltraJet propulsion package. With hull performance and engineering proving performance capabilities topping 40 knots, engine options are flexible from 600 to 1200 horsepower.


"She has been designed with a sense of timelessness to excite and inspire even the most discerning yacht owners," says Katerina Cozias, Business Director with NISI. "Xpresso Class yachts express a confidence that is distinctly NISI."