Carnival Dream Experiences Propulsion Issues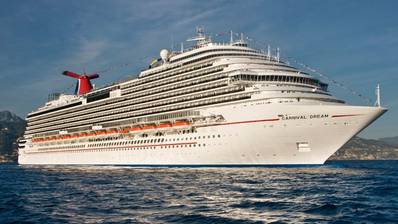 Reports of power outages and overflowing toilets came from another Carnival cruise liner experiencing problems with its propulsion system, FoxNews.com reported.

In a statement to FoxNews.com, Carnival officials said the ship has a "technical issue" with its backup emergency diesel generator that is currently being worked on by its engineering team.

Just one month after a fire crippled the Carnival Triumph in the Gulf of Mexico, Carnival's Dream was originally due to leave port at 5 p.m. ET Wednesday (March 13) after sailing from Port Canaveral on Saturday.

Approximately 4,300 passengers and roughly 1,100 crewmembers were aboard the ship, a Carnival spokesman reportedly told FoxNews.com.

The ship's next voyage, scheduled for Saturday (March 16), has also been canceled.