Seismic 3D Vessel Charter by Seabird Exploration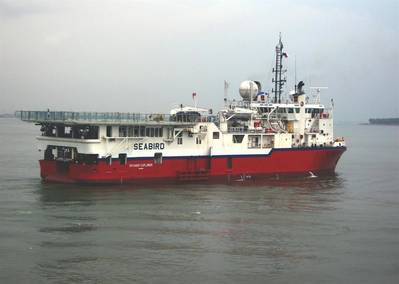 SeaBird Exploration, through a subsidiary of Ordinat Shipping AS, charters the 3D vessel 'Geo Pacific' from Fugro.

The vessel has been fixed on a 4 month time charter, intended to be converted into a 3 year bareboat charter with four one-year options to extend the contract.

Furthermore, SeaBird will also have purchase options on the vessel in year three and, to the extent the lease is extended, year four. The vessel is fully equipped and will be a valuable addition to SeaBird's 3D capacity. The Geo Pacific will be SeaBird's second 3D vessel in addition to the Voyager Explorer.

SeaBird (Ordinat Shipping AS is the largest shareholder) is a global provider of marine acquisition for 2D/3D and 4D seismic data, and associated products and services to the oil and gas industry. It specializes in high quality operations within the high end of the source vessel and 2D market, as well as in the shallow/deep water 2D/3D and 4D market. The main business focus for the company is proprietary seismic surveys (contract seismic).