Japanese Deep Ocean Exploration Ship Shown Off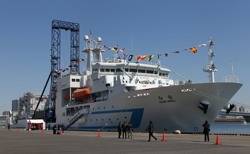 Japan has unveiled a 6,283-ton exploration vessel that will search for rare metals and other natural resources in waters around the nation.
The Hakurei, 118 meters long and 19 meters wide, was shown to the media at Harumi Wharf in Tokyo.
The vessel features drilling equipment that can dig up 400 meters into the seabed at a depth of 2,000 meters. The ship will initially search for resources off Okinawa Prefecture and the Ogasawara Islands.
The Hakurei is owned by the government-backed Japan Oil, Gas and Metals National Corp. and is the first marine resources survey ship built in Japan in 30 years. It cost 27.5 billion yen ($329.4 million).
Hakurei is expected to confirm the resource potential in waters around Japan, including manganese nodule and submarine hydrothermal deposit.