Extreme Skipper Preps for World Record Sail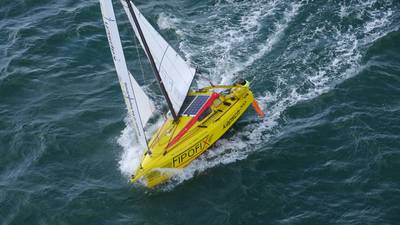 On November 10, 2013, at 1 p.m., sailor Norbert Sedlacek will start two unprecedented world-record attempts, an indescribable hard test for the skipper and the yacht. Despite storym conditions (100 km/h wind at the French Atlantic coast), Sedlacek will attempt a world's first: to cross the North Atlantic in a 16 feet or 4.90-meters boat, a single-handed and nonstop race from east to west by the southern route and subsequently from west to east by the northern route.

The port of departure of this extreme sailing adventure is Les Sables d'Olonne (France). After six-eight weeks the skipper Norbert Sedlacek will pass under the Statue of Liberty to arrive at New York Harbor. In May 2014 he will cross the North Atlantic from west to east to the port of Les Sables d`Olonne.

To fulfill these two world record attempts Norbert Sedlacek will sail approximately 8,000 nautical miles in partly drift ice ocean on a boat which is not only shorter than the average height of wave, but he will also take a risk to be a prey of the ocean sharks. During the estimated sailing race of 80 days, the Open16 FIPOFIX provides only 1.5 m² of protected area.

By this extreme sailing project, Norbert Sedlacek wants to establish new sailing world records of proof that with the synergies between the futuristic art in engineering, the development of innovative materials as well as the personal experience, the ideal preparation and the resolute endurance commitment in sailing everything is nearly possible.