Damen's New Yacht Range Sails to the Extremes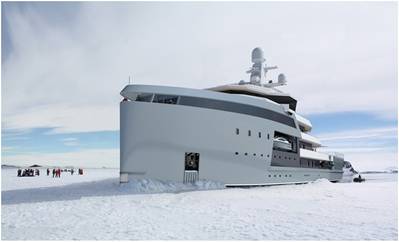 Damen's new SeaXplorer yacht range brings true capability to expedition yachting, from extreme polar to remote tropical areas.
The world's first purpose-built, Polar Code compliant range of expedition yachts has been launched by Dutch shipbuilder Damen and its luxury superyacht division, Amels.
Making its debut this week at the Monaco Yacht Show, the 65- to 100-meter SeaXplorer range includes three designs holding the capability to explore the seas' extremes, from the poles to the tropics and everywhere in between.
The new yachts, which feature Damen's patented "Sea Axe" hull design and Polar Class double-acting hull to break through ice, is something of a fusion between the shipbuilder's dependable commercial vessels and luxurious yachting craft, meeting a demand for comfortable operability in extreme conditions.
"A number of experienced yachting clients approached us about adapting Damen professional vessels, so we knew from them that there were simply no globally capable luxury explorer yachts out there," said Rob Luijendijk, Amels Managing Director. "And that's also what we heard from EYOS Expeditions who have decades of experience in bespoke luxury expeditions to the wildest places on the planet. So that's why Damen began developing the SeaXplorer."
All details of the SeaXplorer range were designed by a dedicated Damen team in the Netherlands under the responsibility of Product Director Mark Vermeulen, while Amels is responsible for sales and marketing.
"The result is well beyond a pretty rendering," Luijendijk said. "It's a fully developed range – something only Damen could do."
Damen said it has invested thousands of hours in research and development, ice tank testing and real expedition pedigree through detailed design input from partner EYOS Expeditions. The exterior lines were penned by AZURE Yacht Design and Naval Architecture, and the builder offers the owner's choice of luxury interior designer.
According to Damen's Chief Commercial Officer Arnout Damen, speaking at the Monaco Yacht Show, the SeaXplorer range shows what can be achieved by bringing together the right team to focus on solutions to client demands. "It's the synergy of Damen and Amels, the shipbuilding know-how, the deep understanding of superyacht lifestyles and the right experienced partners who understand luxury expeditions," he said. "It makes the SeaXplorer a very attractive project at an advanced stage so we can have a real conversation with each client about what they want to achieve."
The three models in the SeaXplorer range are each capable of sailing up to 40 days of full service for all guests without port call.
The vessels also carry tenders (including a dive support tender), expedition equipment, toys, submersibles, dive equipment (including recompression chamber) and up to two helicopters, all easily deployed by design.