HATLAPA UK Moves to New Facilities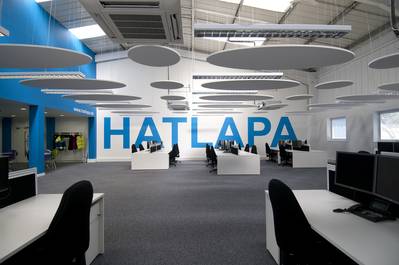 HATLAPA Marine Equipment Ltd., the UK based subsidiary of German marine equipment manufacturer HATLAPA Uetersener Maschinenfabrik, has moved to new facilities.
The previously Hamworthy owned starting air compressor business was acquired by HATLAPA in 2003. After nearly ten years, the company has now moved to new premises to accommodate its growth and development. The state of the art facility in Bournemouth boasts a modern open-plan office space for the 26 employees adjacent to a new service facility equipped with modern compressor reconditioning and test facilities. The UK business is HATLAPA's group centre for all spare parts and service activity associated with the range of compressors purchased from Hamworthy, as well as a regional sales and service centre for HATLAPA's range of deck machinery and steering gear. The property underwent a thorough refurbishment before the move and the office space is now bright, modern looking and branded with HATLAPA colours and logos. Since the move in March 2012, the company has welcomed visitors from Germany, India and Brazil.

Showing off the new space, Managing Director Nick White explains; "This move to new premises has allowed us to carry out a radical review of our business processes, building on things such as our previous implementation of a paperless office and aimed at ensuring smoother communication within our company and importantly with our customers. We have also invested in additional machinery to further develop our fleet support activities." Communication processes with the German headquarters have been changed radically. The Bournemouth office is now directly connected to all HATLAPA group IT systems, which allows UK staff immediate access to stock levels and delivery schedules, resulting in improved customer service. "Proactive use of the real benefits IT can offer us is vital to our operation," comments Mr. White, "and we are actively working to develop our e-commerce capabilities."
The new UK office is also home to the marketing department for the HATLAPA group worldwide. All marketing activities, ranging from media relations, event management and design to corporate branding and strategic planning, are handled from the UK, enhancing HATLAPA's reputation as a truly international supplier to the marine industry.