USN Tests Security Response to Facilities, Personnel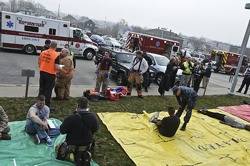 USN wraps up large scale security exercise testing response to nationwide threats

The Navy wrapped up its largest annual security exercise after a week of training designed to test the service's ability to respond to nation-wide threats to its installations, units, personnel and families.

The exercise, known as Solid Curtain-Citadel Shield (SC-CS) 2012, was led by Commander, U.S. Fleet Forces (USFF) and Commander, Navy Installations Command (CNIC)."Our intent was to accurately simulate real-world conditions, and to assess how our forces operate in that environment," said Adm. John C. Harvey Jr., commander of USFF. "Overall, it was a resounding success and a large part of that can be attributed to the lessons we've learned from previous years."
Scenarios ranged from identifying surveillance to large-scale, multifaceted threats originating from the sea and air. Security forces were assessed on their response to the emerging threats.

One of the takeaways from last year's exercise was that sudden increases in security could have a major impact on traffic caused by personnel entering and exiting local bases under increased scrutiny.
Information was collected throughout this year's exercises and will be assessed to identify tactics, techniques and procedures that can be improved going forward.

Exercise SC/CS 2012 was not in response to any specific threat, but is a regularly scheduled exercise.