Marine Diesel Engine Test Facility Opened by MHI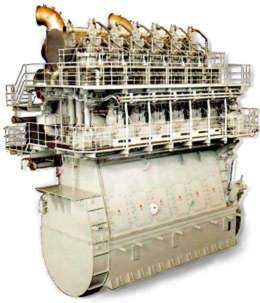 MHI completes full-scale low speed 2-stroke marine diesel engine testing facility at its Kobe Shipyard
Mitsubishi Heavy Industries, Ltd. (MHI) has completed "4UE-X3," a testing facility for full-scale low-speed, 2-stroke marine diesel engines, in the company's Kobe Shipyard and Machinery Works in Kobe, Hyogo Prefecture.
The facility will be used for the testing of various technologies developed in response to more stringent environmental regulations that are expected to be applied to the shipping industry in the future. The new facility will also be used for verification testing of "UEC-LSGi," a dual-fuel low-speed marine diesel that is capable of using natural gas for its fuel, which the company has recently been developing.
The 4-cylinder testing machine, with a cylinder bore of 600mm when completed, was developed based on the "Mitsubishi UEC60LSE-Eco," a low-speed marine diesel engine. The testing machine will be used for verification of various technologies to comply with Tier lll IMO (International Maritime Organization) regulations, applicable to ships' engines newly built after 2016, and requiring the reduction of NOx emission by 80%.

Main Particulars of "4UE-X3" testing facility:

Number of cylinders: 4

Cylinder bore diameter: 600mm

Stroke of piston: 2,400mm

Break mean effective pressure: 21.0 bar (as an initial specification)

Power output: 9,970kW
Engine speed: 105 rpm