Fairmount Tugboat Takes ENSCO Rig From Rio to Malta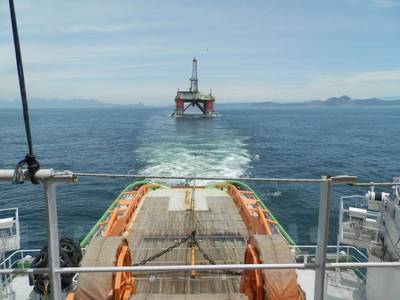 Fairmount Marine say they have safely delivered the semi-submersible drilling rig ENSCO 5004 to Malta at the end of a voyage that began offshore Rio de Janeiro.
The 5,782 nautical mile towage of the 94,7 meters long and 70,4 meters wide rig from from Rio de Janeiro to Malta was accomplished at speeds well over 7 knots at times.

About Faimount Marine
Fairmount Marine, part of Louis Dreyfus Armateurs Group, is a marine contractor for ocean towage and heavy lift transportation, headquartered in Rotterdam, the Netherlands.

Its fleet of tugs consists of five modern super tugs of 205 tons bollard pull each, especially designed for long distance towing, a multipurpose support vessel and a large submersible transport barge.