Fast Ferry Brilliance of Majestic Launched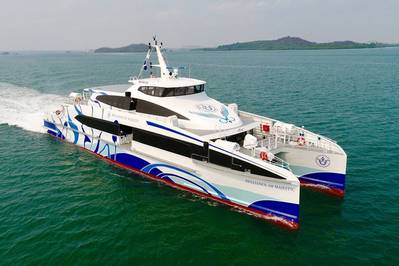 Incat Crowther announced the launch of Brilliance of Majestic, the first in a new class vessel.
Brilliance of Majestic is the first of a third class of vessel designed by Incat Crowther for the operator, Majestic Fast Ferry. At 33m and 39m respectively, the previous vessels housed their passengers in a single deck configuration that reduced weight and construction complexity. The Brilliance class was driven by the requirement to carry more passengers at greater speed, while giving business class passengers an exclusive experience. The increased capacity and speed needed to be balanced with capital and operating costs.
The wheelhouse was raised half a level to maintain all-round visibility and an upper deck business class cabin added. To combat undue increased in weight and complexity, the upper deck cabin is set in from the sides of the vessel and kept relatively short.
Passengers board Brilliance of Majestic via either aft or midships boarding gate. The main deck cabin seats 261 economy passengers. Three bathrooms are located aft, and luggage racks abound. A central staircase adjacent to the midship boarding doors leads directly to the upper deck business class cabin. 43 passengers are accommodated here in larger seats set at a greater pitch. A large business class bathroom is located aft.
Brilliance of Majestic is powered by four MTU 12V2000 M72 main engines, each developing 1080kW. She is propelled by quad Rolls Royce 56A3 jets. The vessel has a fully-laden speed of 38 knots.
Specifications- Incat Crowther 42
Principal Dimensions
Length Overall 138' 6" / 42.2m
Length Waterline 131' 3" / 40.0m
Beam Overall 32' 10" / 10.0m
Draft (hull) 4' 8" / 1.4m
Depth 11' 2" / 3.4m
Construction Marine grade aluminium
Capacities
Fuel Oil 3 963 gallons / 15 000 litres
Fresh Water 1 057 gallons / 4 000 litres
Sullage 264 gallons / 1 000 litres
Passengers 324
Crew 8
Propulsion and Performance
Speed (Service) 36 knots
Speed (Max) 39 knots
Main Engines 4 x MTU 12V2000 M72
Power 4 x 1080kW @ 2250rpm
Propulsion 4 x Rolls Royce 56A3
Generators 2 x Perkins 99kW
Regulatory
Flag Singapore
Class / Survey BV HSC 1  Hull  Mach Passenger Vessel