Favorites Bested in World Class Sailing Trophy Race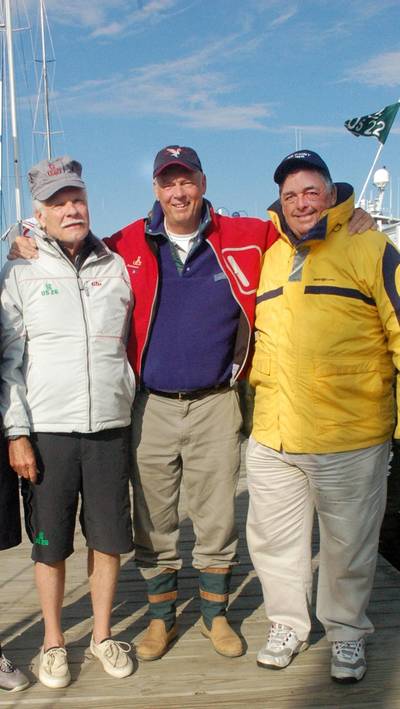 Pine Bros Trophy favorites media mogul Ted Turner & "Mr. America's Cup" Dennis Conner, were beaten by Dennis Williams' 'Victory '83 Team'.

In a competition featuring two of the most legendary yachtsmen in American history, and which saw the return of former America's Cup winner Dennis Conner, it was Dennis Williams and his 'Victory '83 team' that cruised to overall victory in the recent International 12-Metre North American Sailing Championships in Newport Rhode Island.

Over the three day event held on Narragansett Bay, which features the most skilled 12-Metre sailors in the world, the Williams crew won every race in its class, taking overall victory to claim the coveted Pine Brothers Trophy.

The trophy is given to the yacht with the best overall performance. Williams, a resident of Hobe Sound, Florida, and a two time North American Champion, remarked upon his team's stellar performance. "I'm not sure anyone has ever done that (taken all firsts) in this regatta. The difference was work and tactics, which were virtually flawless."

Media mogul Ted Turner, winner of last year's Pine Brothers Trophy, and "Mr. America's Cup" Dennis Conner, were favorites to win the trophy. Conner, a four time America's Cup winner, captured the Grand Prix Division at the event by winning two of his three races. Turner, who competed in the Traditional Division with veteran racing tactician Gary Jobson, was edged out by team Columbia and skipper Alain Hanover. At the awards ceremony, hosted by Pine Brothers, Turner expanded upon the event and his races. "This weekend was wonderful, some of the closest racing ever. By God, we'll get 'em next year!"

Pine Brothers owner and CEO Victoria Knight-McDowell, called the three day championship, "enthralling." "It's such an amazing event, whether its meeting the yachting legends or gauging the competition, or simply appreciating the beauty of the boats on the bay." Pine Brothers is the sponsor of the International 12-Metre North American Championship and makers of the Pine Brothers softish throat drops. The company was founded in 1870 and is based in Pebble Beach, California.