3D Welding Tables Featured on Forster's New Website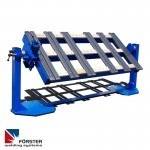 Forster America, the North American supplier of Forster Welding Systems, including welding tables and accessories, recently launched a new website featuring details of all its welding table products and technical specifications.
The new website enables visitors to research Forster America's unique line of welding table products including: 3D Welding Tables, Special Grey Cast Welding Tables, Al/Cu Alloy Welding Tables, Welding Benches, Swiveling Welding Tables for Jigs, Lifting & Tilting Welding Tables for Jigs, Movable Table Bridges and Anchor Systems with Built-in Rails. In addition, the website's catalog provides a complete list of accessories for Forster Welding Systems products to make them a versatile as possible.

The website features unique specialty welding tables that are designed with rotating swiveling tops that are designed to accommodate jigs. These tables with jigs can be positioned to handle the most complex welding task and to keep the welding surface easily accessible to the welder. This will help to ensure that welding task is completed as fast as possible without sacrificing quality.

Forster America also carries Special Grey Cast Welding Tables that are resistant to welding spatter which reduces cleanup time and companies that weld stainless steel products Forster has an aluminum-copper alloy surface welding table that enables high quality stainless steel processing.

Forster America's President, Ben Howell, commented on the new website. "Our new website provides our customers with the ability to easily review our line of welding table products and accessories and find the welding tables they need for their welding operations. The new website has our products organized by category of welding table and then by specific product pages which provide product details. Each product page has a product description, technical specifications, and photos."
http://www.forsteramerica.com/