Walney 2 Success for Fendercare Marine Diving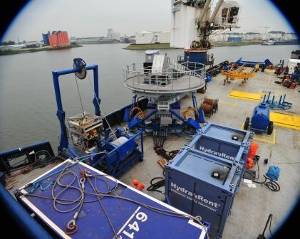 Fendercare Marine's recently established diving division has picked up it's first major contract, extending the group's profile within the offshore renewables sector.
Fendercare Marine was contracted by the Dutch-based Visser & Smit Marine Contracting (VSMC) for a multi-million Euro sum, to insert a messenger cable into each of 51 wind turbines for Dong's Walney 2 development off the Barrow-in-Furness coast.
The work has taken place over 85 days of the summer months and has involved the supply of a DPII vessel, a fitted Ampelmann personnel transfer system nd ROVs to carry out the work.
Bob MacMillan, Director of Fendercare Marine's diving services commented: "This is an extremely important contract for the diving division, both in terms of the revenues it will generate and also in terms of further positioning FenderCare Marine as a key products and services provider within the offshore renewables sector. It clearly demonstrates the capabilities which Fendercare Marine can offer to the offshore and marine sectors in general and to those engaged in the hook-up of offshore wind turbines in particular. With this project successfully under our belt, we look forward to bidding for, and winning, more of this business in the future."