NOAA's 'Ferdinand R. Hassler' Begins Survey Project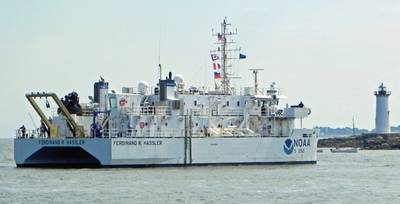 NOAA's newest survey ship, the 'Ferdinand R. Hassler', arrived at her new homeport of New Castle, New Hampshire, earlier this month, and has now begun her first New Hampshire survey project
Hassler will operate mainly along the Atlantic and Gulf coasts, Caribbean Sea and Great Lakes, acquiring data to update NOAA's nautical charts. Her mission, however, is not limited to collecting bathymetry, explains retired NOAA Capt. Andy Armstrong, co-director of the Joint Hydrographic Center/Center for Coastal and Ocean Mapping at the University of New Hampshire. Armstrong points out that "Hassler's arrival is the impetus for improving the already dynamic synergies between NOAA's hydrographic program and CCOM's research."

Local government officials have provided a warm welcome to Hassler's crew. Noting "the enthusiastic welcome from the townspeople and local businesses," Hassler commanding officer Lt. Cmdr. Ben Evans predicts a great future for a cooperative working partnership between the ship, the town, and the university.
The first cooperative project is coming up, during the survey project that starts today. While charting the approaches to New Hampshire, Hassler will be a testing platform for a new autonomous underwater vehicle currently being analyzed by the Office of Coast Survey and UNH researchers.

The Ferdinand R. Hassler is a state-of-the-art coastal mapping vessel. The 124-foot ship will conduct basic hydrographic surveys of the sea floor using side scan and multibeam sonar technologies. The ship is also equipped to deploy buoys and unmanned submersibles and conduct general oceanographic research. Ferdinand R. Hassler's twin-hull design is particularly suited to NOAA's mission to map the ocean floor, as it is more stable than a single-hull vessel.