18 New Ferries Needed for New NYC Ferry Service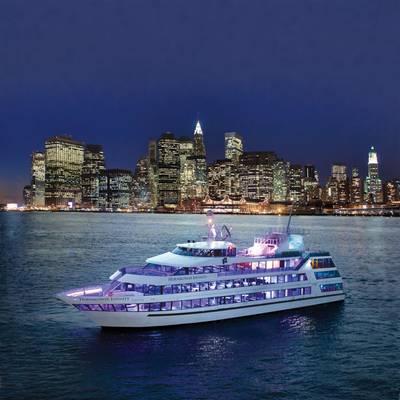 NYC Awards New Ferry Service Deal to Hornblower
New York City Mayor Bill de Blasio announced that the Citywide Ferry Service is on track to launch in 2017, with the selection of Hornblower, Inc. as its operator. The new service, which will include up to 20 boats and connect 21 New York City eighborhoods for the price of a single subway ride ($2.75) is scheduled to be fully operational by 2018, and is estimated to carry 4.6 million trips per year across six routes.
"For the price of a single subway ride, tens-of-thousands of New Yorkers are going to have a new public transit option linking them to jobs, education and opportunities across the city. It's going to be a commute like no other: fresh air, harbor views and a fast ride on the open water," said Mayor de Blasio. "We are selecting an operator with an incredible track record providing service in our harbor. We look forward to launching with Hornblower next year."
A blog appearing March 16, 2016 on Hornblower's website, authored by Damian O'Keeffe, touts the deal. "Hornblower will create 155 new jobs in New York Harbor. Adding to our dedicated team of 450 local workers that has grown since first beginning operation in New York with Statue Cruises in 2008, and Hornblower's dining, sightseeing and entertainment cruises four years later. We currently employ more New Yorkers than any other ferry operator in the harbor."
"Hornblower is honored to take the helm of Mayor de Blasio's vision for a more integrated transportation network that will make commuting and connecting easier," said Terry MacRae, CEO of Hornblower. "We have already begun work to deliver a ferry system by the summer of 2017 which will revolutionize the way New Yorkers work, live and play, and we are confident this new system will become a local favorite for decades to come."
As part of the service, Hornblower will be delivering at least 18 new boats, which will be equipped with WiFi and engines that meet the highest EPA standards. All docks and boats will be accessible to people in wheelchairs and fully compliant with the Americans with Disabilities Act.
The selection of Hornblower marks the culmination of a year-long competitive procurement by the New York City Economic Development Corporation. Following the announcement of the Citywide Ferry Service in the Mayor's 2015 State of the City Address, NYCEDC issued a public RFP seeking one or more private operators to provide the Citywide Ferry Service. NYCEDC received multiple responses and has selected Hornblower on the basis of its ability to provide the highest quality service at the best value to taxpayers.
"Two years ago, Mayor de Blasio's State of the City included an ambitious plan for the unprecedented expansion of ferry service, all for the same cost of a bus or subway ride, "saidDepartment of Transportation Commissioner Polly Trottenberg. "With Hornblower's arrival today, he is keeping that commitment and providing New Yorkers with new options to travel safely and efficiently. With new means of commuter access, many communities, some of them in so-called "transit deserts," will gain a tremendous economic boost."
All reaction following the announcement on Pier 15 was not positive, as multiple media reports including the Wall Street Journal and New York Times report that local ferry company New York Water Taxi will face significant financial hardship with their exclusion from the deal.
Routes:
•
Rockaway, South Brooklyn and Astoria routes scheduled to launch in 2017.
•
Rockaway route will connect to the Brooklyn Army Terminal and Wall Street.
•
Astoria route will connect to Astoria, Roosevelt Island (Cornell Tech), Long Island City, East 34th Street and Wall Street.
•
South Brooklyn route will connect Bay Ridge, Brooklyn Army Terminal, Red Hook, Brooklyn Bridge Park's Pier 1 and Pier 6, and Wall Street, with an optional link to Governors Island.
•
Soundview and Lower East Side routes to launch in 2018.
•
Routes from Coney Island and Stapleton on Staten Island are in planning stages for future expansion.
•
Combined routes will cover over 60 miles of waterway.
•
Over half a million New Yorkers live within a half-mile of one of the 21 Citywide Ferry landings, including 15,000 families living in NYCHA developments.
The Boats:
•
Each boat will be able to carry at least 149 passengers.
•
All boats will be equipped with WiFi.
•
Boats will be fully accessible to New Yorkers with disabilities, and will comply with the requirements of both the Americans with Disabilities Act and New York City Local Law 68 of 2005.
•
New boats will be equipped with the most modern engine design available to reduce emissions and noise, as well as an efficient hull design that will limit wakes and maximize fuel economy.
•
City contract with Hornblower allows the company to charter vessels if necessary to meet the implementation timeline.