MAN Cryo to Supply FGSS for LNG Ferries in Norway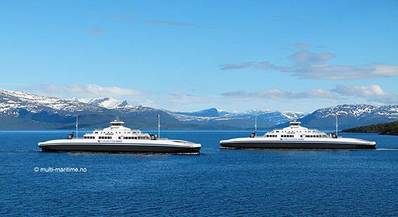 MAN Cryo, MAN Diesel & Turbo's marine-LNG fuel-gas-system manufacturer, has signed a contract with the Vard Shipyard Group in Norway to deliver a fuel-gas supply system (FGSS) to two ferries for shipowner and ferry operator Torghatten Nord.
Each ferry will be equipped with a gas-electric, hybrid-propulsion system that features optional fast-charging from shore. Major efforts have been put into the design to deliver an energy-efficient propulsion and hull shape that offer a state-of-the-art environmental performance, comfort and reliability. The ferries are designed by Norwegian ship designer Multi-Maritime.
The LNG supply system consists of a 175 m3 vacuum-insulated storage tank, with
auxiliary equipment including
an LNG vaporizer, a pressure build-up unit and a bunker station.
The MAN Cryo system will supply gas to the engines powering each ferry and is scheduled for delivery in Q1, 2018. The equipment will be installed aboard two double-ended RoPax ferries that will operate between Halhjem and Sandvikvåg, south of Bergen in SE Norway. The 134-m long and 21-m wide ferries will have identical capacities of up to 180 cars and 550 passengers.
Mikael Adler, Managing Director of MAN Cryo, said, "We see a clear trend in the market with an increasing number of inquiries for fuel-gas systems. This clearly points towards LNG's positive growth as a choice of fuel."