AIDS Fighting Rowboat Readies for Next Mission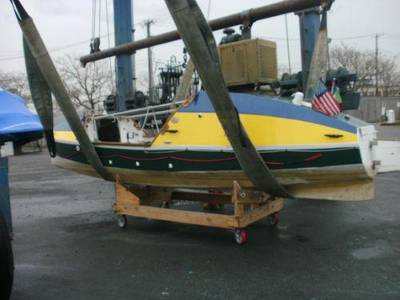 The Spirit of Malabo, a 24' foot Brazilian built ocean rowboat, was hoisted from the Jamaica Bay at Gateway Marina early and rolled on a cradle with Service Caster wheels. The vessel will be used to promote voluntary HIV testing during a transatlantic row from the Canary Islands to New York with a resupply in the British Virgin Islands later this year. Spirit of Malabo will be sent to Las Palmas via Maersk Line.

The vessel will be powered by Victor Mooney of Queens, who recently wrapped up his sea trials with The Spirit of Malabo during a ninety mile row from the Hampton's to Brooklyn last week. For Mr. Mooney, this will mark his fourth bid to cross the Atlantic Ocean.

"I have been fortunate to be surrounded by a great group of people that believe in me," said Victor Mooney at the marina. "We are still in an epidemic that doesn't appear to be ebbing at all," Mr. Mooney added.