Financing Structure for Canal Expansion Program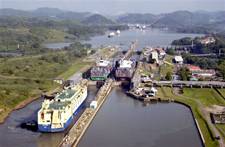 Panamanian President Martín Torrijos announced the final financing structure for the historic Panama Canal Expansion Program.
Five major multilateral agencies from Europe, Asia and offered to finance the Canal expansion project. The Panama Canal Authority, after months of extensive negotiations, has accepted the banks' offers.
The $2.3 billion financing package will cover a portion of the $5.25 billion total cost of the project. Financing agencies are the European Investment Bank (EIB), Japan Bank for International Cooperation (JBIC), Inter-American Development Bank (IDB), International Finance Corporation (IFC), and Corporación Andina de Fomento (CAF). The negotiated financing structure includes a 20-year amortizing period with a 10-year grace period.
Recently, the ACP received its first prospective investment grade rating. Moody's Investors Services, gave the ACP an A1 as a government-related issuer, and a prospective A2 investment grade for the possible $2.3 billion financing for the expansion project.