Luxury Cruise Ship Launch by Fincantieri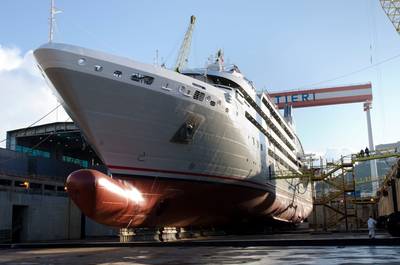 Fincantieri launch 'Le Soleil', a super luxury cruise ship for French shipping line Compagnie du Ponent (Bridgepoint Group).

The ship will be delivered in June 2013 and will be essentially more like a mega yacht in size and fitting out with a paramount attention to interior detail.

Le Soleil, which will fly the French flag, is the third twin following "L'Austral" and "Le Boreal", the two mini cruise ships delivered in May 2010 and April 2011 respectively.

Like its twins, the new ship is equipped with the very latest in environmentally friendly technology, while its small size means that it will be able to reach ports and destinations inaccessible to larger vessels.

The Compagnie du Ponant, based in Marseille, currently has a fleet of three cruise ships targeting the super luxury market. Founded in 1988, it became a member of the Bridgepoint Group in 2012.

The ceremony was attended, amongst others, by Jean-Emmanuel Sauvee, CEO and founder of Compagnie du Ponant, Véronique Saade, the company's Deputy General Manager, Gabriele Cocco, Executive Senior Vice President of Merchants Ships of Fincantieri, and Giovanni Stecconi, Manager of the company's Ancona shipyard. The ship's godmother was Kiki Tauck, wife of Dan Tauck, CEO and Director of the Tauck Group, a long-standing customer of Compagnie du Ponant.