New End Mill Provides Roughing and Finishing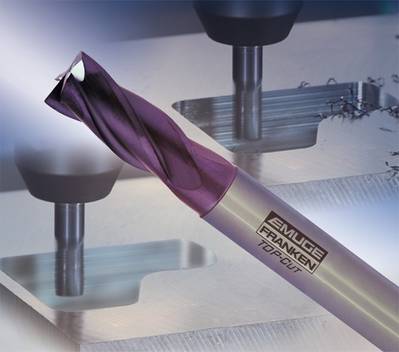 Emuge Corporation introduced Top-Cut Roughing and Finishing End Mills. With one Emuge-Franken Top-Cut carbide end mill, both roughing and finishing operations can be performed, significantly reducing vibration, and reducing the number of tools and changes.
The new Top-Cut end mills are optimized for maximum versatility in machining. Variable helix angles eliminate harmonic oscillation to greatly minimize vibrations and improve surface quality. Even in the most diverse materials, a tough carbide substrate, combined with optimized micro-geometry and a high-heat resistant TiALN coating, guarantees a great degree of process safety and long tool life. For maximum efficiency, the stable design features a recessed neck.

"Now one end mill will maximize productivity, improve surface finishes and extend tool life like never before," said Mr. Charles Colonair, Franken Milling Project Manager at Emuge Corp. "And Top-Cut performs 60% faster in roughing and finishing applications." Emuge is also offering guaranteed performance for Top-Cut Roughing & Finishing End Mills: If the tool does not successfully outperform the user's current tools, the tool purchase will be fully refunded.