Jensen Maritime Design New City of Portland Fireboats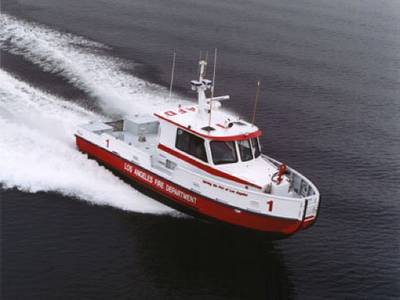 Jensen Maritime, Crowley Maritime Corp.'s Seattle-based naval architecture and marine engineering company, recently completed concept designs and performance specifications for two new fireboats that will join the city of Portland's fire and rescue (PF&R) fleet in the first half of 2014.
The new, fast-response fireboats will provide emergency response on long stretches of both the Columbia and Willamette rivers, and are expected to have a 20-year service life, which far exceeds the typical five to seven years found on similar vessels in this class.

Jensen designed the two new industry-setting fireboats with a number of technologically rich elements, including automatic compensation for the recoil from the water cannons and fully integrated controls for fast and agile maneuvering.

"We are proud to have contributed our best-practice experience to the design of these new emergency response boats," said Jensen's Johan Sperling, vice president. "Our knowledge of what it takes to create a vessel that performs with tight and accurate maneuverability and reliable systems during intense, emergency operations will serve the city and its visitors and residents well for many years to come."

The two 54-foot long by 16-foot wide fireboats will be powered by twin MTU 8V2000 M84 engines each rated at 1,085 HP at 2,450 RPM. The twin MTUs will turn ZF 665TS reduction gears and Rolls-Royce FF450S waterjets, all of which combine to give the vessels a top speed of about 40 knots.

For firefighting, each vessel will also have a 3,500 gallons-per-minute fire pump on the front end along with three monitors – two on the bow and one on top of the cabin – and numerous hose connections both forward and aft. The vessels will also feature an integrated hydraulics system with a hydraulic bowthruster, a feature that Portland Fire Department Project Manager Tim Von Seggern labeled "unique."

While Jensen provided design, Donald L. Blount and Associates Inc., produced the final hull form. The boats are being constructed at Oregon Iron Works – a company that since 1984 has built and delivered more than 300 vessels, many for the Army Special Forces and other military buyers.