Fire-fighting ASD Tugs Sail to Argentina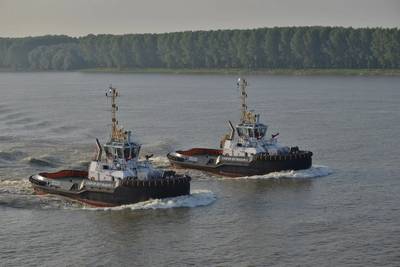 At the end of June, two Damen ASD Tugs 2810 set sail from Damen Shipyards Galati in Romania to Puerto General de San Martin (Argentina) for towing, mooring, and fire-fighting operations in the Argentinian region around Rosario on the Paraná river.
Built at Damen Galati Shipyards (Romania), the vessels will be delivered on time, having met the expectations of Cooperativa De Trabajos Portuarios Limitada de San Martín. This was a first-time order for the Argentinian company who also purchased a Cutter Suction Dredger 500 from Damen Dredging Equipment, which is also on its way by means of a cargo vessel.
Alex Westendarp Knol, Damen Area Manager South-America, explains: "Our short delivery time together with the cooperation of Argentinian authorities, allowed us to meet the requirements for arranging this departure at short notice."
The company's current large rescue center will be able to expand its Maritime Division with the tugboats ESTIBADOR I and ESTIBADOR II. The ASD 2810 tugboats can perform emergency and fire-extinguishing activities should fire break out at a terminal or on a vessel. These tugs will also be used for vessel manoeuvring operations.
The 28.67m long ASD Tugs have a beam of 10.43m and are equipped with state-of the-art Fire Fighting 1 capability. Fitted with two Rolls Royce US 205 azimuth thrusters, these compact tugs have a maximum bollard pull of 60.2 tonnes and are easy to manoeuvre at speeds of 13 knots.
The CSD 500 dredger, LA PORTUARIA, will be used for dredging operations in the Argentinian terminal region. LA PORTUARIA has a modular design which makes it easy to transport almost anywhere. The dredger is easily made ready for transport and on location reassembled with small locally-sourced cranes. Used for capital and maintenance dredging, the dredger is able to operate in water depths up to 16m and has a maximum swing width of 39.6m.
Damen Services will continue to provide Cooperativa De Trabajos Portuarios with proper operation and maintenance of the vessels as well as crew familiarization and training.