Injured Fisherman Medevaced off Alaska
Posted by Eric Haun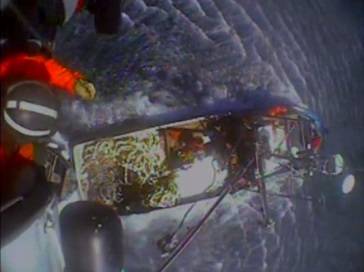 An injured mariner was medevaced by U.S. Coast Guard (USCG) personnel near Sand Point, Wednesday, the USCG reported.

Watchstanders at USCG District 17 command center received a report that a mariner aboard 48-foot fishing vessel Capt-Jay was suffering from a head injury. Watchstanders then consulted with the duty flight surgeon who recommended immediate medevac.

A USCG Air Station Kodiak MH-60 Jayhawk helicopter crew flew 230 miles from Kodiak, hoisted the 28-year-old man from the fishing vessel, and transported him to Sand Point. The man was then transferred aboard a Coast Guard HC-130 Hercules airplane and flown to Kodiak for treatment.

Weather on scene of the medevac was reported as 8-mph winds and 2-foot seas.

"Our aircrews routinely train together to respond to emergencies throughout the state," said Lt. Melanie Collier, a 17th District command duty officer. "This case highlights the benefits of their training which allowed them hoist the mariner and transport him to a higher level of medical care."