Crews Safe After Two Fishing Boats Sink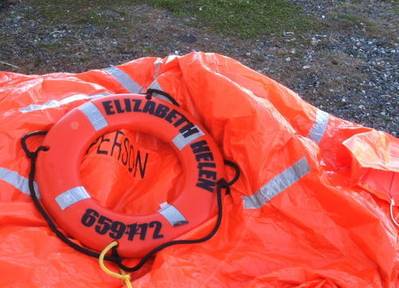 In two different northeastern states, five fishermen are safe after their vessels sank this past weekend.

During separate events, the fishermen were transported safely back to shore by Coast Guard rescue crews from Rhode Island and New York. In each case, the fishermen were able to alert rescue crews and enter their vessels' life rafts before the vessels sank.

Saturday, the crew of the West Kingston, R.I.,-based fishing vessel Elizabeth Helen was hauling in their catch when the vessel sank three miles northeast of Block Island, R.I. The Coast Guard was notified when the crew activated their emergency position indicating radio beacon, which transmits a GPS position to rescuers in the event of an emergency. Because the beacon had been properly registered with authorities, Coast Guard responders were able to verify the transmission as an emergency and launch immediately.

A rescue crew from Coast Guard Station Point Judith, R.I., arrived at the GPS location and spotted the fishermen after the distressed crew fired red flares into the air. By that point, the fishermen had abandoned their sinking vessel and embarked their life raft. The two men were brought safely back to shore, checked by local medical personnel and released.

Sunday, the crew of the fishing vessel Vincenzo abandoned their vessel after it began taking on water 12 miles south of Shinnecock, N.Y. The three crewmembers put on the their survival suits, radioed for help, and entered the vessel's life raft. The crew also took the vessel's EPIRB to activate in case responders were unable to locate them. The Coast Guard launched a rescue boat from Station Shinnecock and issued a radio broadcast asking mariners in the area to render assistance. The fishing vessel Rhonda & Denise responded to the broadcast, rescued all three fishermen, and later transferred them to a Coast Guard rescue boat. The three survivors were brought safely to shore. No injuries were reported.

With the frigid temperatures out at sea, lives can be lost or saved in a matter of minutes. Both incidents demonstrate how emergency equipment and well-prepared mariners aided in their own rescue. By contacting rescuers either by radio or with an emergency beacon, the mariners provided information that greatly increased their odds of survival. "It wasn't luck that brought these fishermen home alive," said Lt. Joe Klinker, First Coast Guard District public affairs officer. "It was their decision to prepare for the worst."