Glass Sponge Reef Fish-Trawling Violator Fined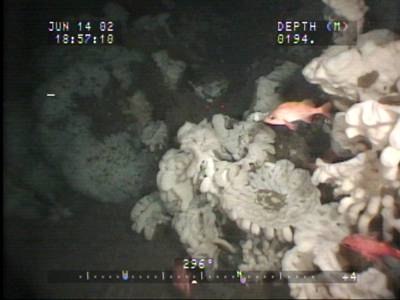 The Port Hardy, BC, Provincial Court sentenced Ian Garnier, master of the F.V. 'Miss Tatum' for contravention of the Canadian Fisheries Act for fishing with a bottom-trawl net inside a closed glass sponge reef area near Queen Charlotte Sound, in northern British Columbia.

Discovered in 1998, there are four major Hexactinellid (glass) sponge reefs in Hecate Strait and Queen Charlotte Sound. These enormous concentrations of glass sponges cover an area of about 1,000 square kilometres; an estimated 9,000 years old, they are a modern link to reefs that were common during the Jurassic era. Reefs the size of the ones found in Hecate Strait and Queen Charlotte Sound have not been found elsewhere in the world.

Garnier was found guilty and fined $1,750 by the Honorable Judge Roderick Sutton, and the money will be directed to the Canadian Groundfish Research and Conservation Society to promote the proper management, control, conservation and protection of fish and fish habitat.

The vessel fished using a bottom-trawl net inside a glass sponge reef area that is closed year-round to all bottom-trawling to provide protection for this unique ecosystem. Under the conditions of his fishing licence, it was mandatory for the skipper to record the start, middle, and end position of each tow. GPS coordinates obtained from the vessel's logbook on the dates in question as well as At Sea Observer records, confirmed to the court the position of the vessel within the closed area.