FLAGSHIP-Bridge Support Delivers Enhanced Navigation Tools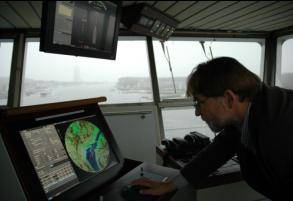 FLAGSHIP, the pan-European maritime transport project part funded by the EU, has improved Integrated Bridge Systems with advanced functions for further integration of nautical information. Called FLAGSHIP-Bridge Support these functions provide the officer of the watch with improved navigation information. They integrate NAVTEX messages, radar and AIS targets into a single coherent display, speeding up hazard analysis, improving tracking accuracy and reducing the load on the Duty Officer.

Currently most ships receive navigational and meteorological warnings and forecasts, as well as urgent marine safety information via NAVTEX accessed from a standalone unit. Another separate or only basically integrated unit, the Automatic Identification System (AIS), is used for identifying and locating vessels, by electronically exchanging data with other nearby ships and VTS stations. This means that the Duty Officer has to constantly monitor multiple displays, cross referring and mentally combining and analysing the hazard information. FLAGSHIP-Bridge Support removes this requirement and gives the officer all the data required for safe and efficient decision making. Vessels that also run the Flagship-RCS system will benefit from updates via Notices to Mariners and local navigational data from the NAVTEX system, allowing even more integration of information. To enhance accessibility, the system can also be delivered via tablet PCs, ensuring pertinent information is delivered to the officer wherever he is.

Trials have been successful and the technology has already been incorporated into SAM Electronics' NACOS 5th Generation Integrated Navigation and Command Systems and partly also into the new NACOS Platinum Generation. Full results will be incorporated within the next year.

Mr Herman de Meester, Coordinator of FLAGSHIP commented: "The shipping industry always works hard to meet and exceed perfo rmance standards. The adoption of specific learning in to new products for the advancement of the industry is exactly what EC projects such as these are all about and are to be welcomed and encouraged."

FLAGSHIP–Bridge Support was led by SAM Electronics in Germany. The project was supported, delivered and trialled in conjunction with BMT in the UK, Kongsberg in Norway and CONSAR in Italy and Minoan Lines in Greece.

Source: http://www.flagship.be/