Flame-proof Overalls to be Supplied to Navy Sailors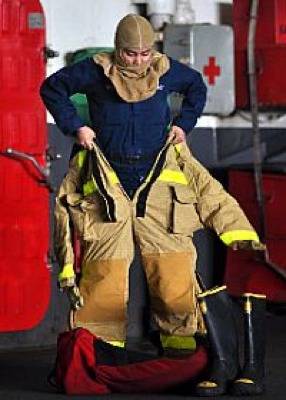 U.S. Fleet Forces (USFF) and U.S. Pacific Fleet (PACFLT) will distribute flame-resistant coveralls to shipboard Sailors beginning early next year.

The two fleet commanders decided to approve a Flame Resistant Variant (FRV) coverall to ensure the safety of all shipboard Sailors after reviewing the findings of the Organizational Clothing Working Group. 



"We made the decision to supply flame-resistant coveralls to all Sailors assigned to ships as an added safety precaution," said Adm. Bill Gortney, commander, U.S. Fleet Forces Command. "Sailors at sea operate in an environment with inherent risks. We are always looking for ways to mitigate those risks." 



The FRV coverall will combine the existing blue utility coverall design with the flame-resistant fabric of the repair locker coverall.

Flame resistant organizational clothing had previously been limited to Sailors working in engineering departments, on flight decks and in other high-risk areas, but the working group ultimately decided every Sailor afloat should be outfitted with the additional protection. However it was decided that the bottom line was simple: any Sailor at sea could be on the end of a hose fighting a fire with little or no notice.