Fleet Week Kicks off in New York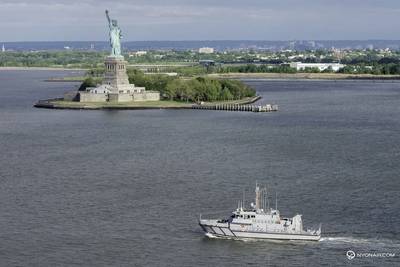 Three U.S. Navy ships, two U.S. Coast Guard (USCG) cutters, and four U.S. Naval Academy (USNA) Yard Patrol boats have arrived in the New York Harbor to participate in the 2015 Fleet Week New York Parade of Ships.
Participating ships include the amphibious transport dock USS San Antonio (LPD 17), Arleigh Burke-class Aegis guided-missile destroyers USS Barry (DDG 52) and USS Stout (DDG 55), 703-class USNA Yard Patrol boats, and U.S. Coast Guard cutters Sturgeon Bay (WTGB 109) and Spencer (WMEC 905).
Named in honor of the 343 firefighters who lost their lives at the World Trade Center on Sept. 11, 2001, Fireboat 343, the newest member of New York's Fire Department (FDNY) will also participate. FDNY Marine Operations is charged with protecting New York City's 560 miles of waterfront.
Stout will lead as the military ships enter the New York Harbor at approximately 10 a.m., with ships in formation behind. The ships can be seen along the
Hudson River from
Battery Park to just south of the
George Washington Bridge
.
Fleet Week New York, now in its 27th year, is the city's celebration of the sea services, aiming to provide an opportunity for the citizens of New York and the surrounding tri-state area to meet Sailors, Marines and Coast Guardsmen, as well as witness firsthand the capabilities of today's
maritime services
. It is anticipated that nearly 1,800 Sailors, Marines and Coast Guardsmen will participate.