Russia's Floating Research Station Unfolds in the Arctic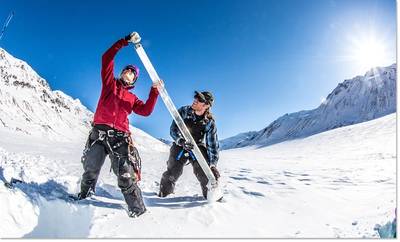 The Russian Ministry of Natural Resources says that Russia plans to establish a floating research station in Arctic sea. The floating research station "North Pole-41" is already in the making, says the Ministry statement.
The Ministry says that the station will be an important instrument in securing
Russian presence
in the Arctic and will give Russia the opportunity to set new priorities for the scientific research on the drifting ice.
"At present the deployment of seasonal scientific drifting station" North Pole-2015 is the only possible scientific research way in the North Pole"- the ministry said.
In 2013, the Ministry of Natural Resources decided to evacuate the High North station "North Pole-40" when the ice floe began to break down. The 16 scientists that had spent the winter on the floe had to be picked up by a nuclear-powered icebreaker sent out from Murmansk. Russia has not had any similar station in the Arctic during the two last winters.
Russia has had floating research stations in the Arctic since 1937. Normally stations were established on ice floes from September to October, and some two dozen scientists would spend the winters there measuring climate and weather conditions.
During the last couple of years, it has become more and more difficult to find ice floes solid enough to hold a station. Last year the Arctic and Antarctic Research Institute recommended stopping using manned stations on ice floes because of the high risks.
A recent study shows that the ice in the
central Arctic Ocean
has thinned dramatically over the last 40 years – from 3.59 meters to 1.25 meters between 1975 and 2012.