'HMS Bounty' Foundering Probe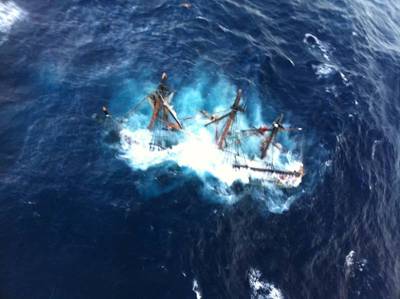 US Coast Guard to formally investigate cause of the sinking of the tall ship off Cape Hatteras during Hurricane 'Sandy'.

Rear Adm. Steven Ratti, the Coast Guard 5th District commander, has ordered a district formal investigation to determine the cause of the sinking of the Bounty, a three-masted sailing ship, 90 miles southeast of Hatteras, N.C., on 29, October, 2012.

One crew member died and the search for the Bounty's missing master, 63-year-old Robin Walbridge of St. Petersburg, Fla. has been suspended.

A district formal investigation consists of a Coast Guard investigating officer who will receive evidence and testimony using formal rules and procedures and is convened when the information to be derived has considerable regional significance, or may indicate vessel class problems or areas of technical importance. It is expected to take several months.

The ship was built for the 1962 film "Mutiny on the Bounty" starring Marlon Brando and has featured in several other films, while also being used to give individuals and interested groups a taste of life on board a traditional sailing ship.