Vigor Delivers San Francisco's New Fireboat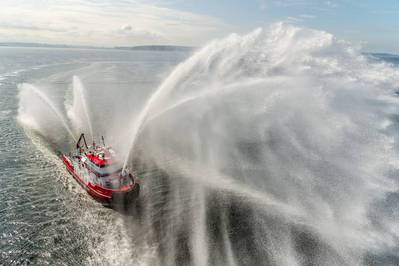 Vigor recently delivered an 88' x 25' x 14' fireboat to the San Francisco Fire Department. The yet to be named vessel is the first fireboat to join San Francisco's fleet in 61 years.
Designed by
Jensen Maritime
and built at Vigor's Seattle shipyard, the unique vessel is not only a firefighting tool but also a mobile pumping station powerhouse, the shipbuilder said. It's capable of pumping millions of gallons of water directly from the Bay into the City's Auxiliary Water System – a feature that will keep fire hoses flowing in the event an earthquake damages San Francisco's water mains.
"Construction of this fireboat is a source of pride for all concerned,"
said Keith Whittemore
, Vigor Executive Vice President of Business Development. "It's a complex vessel with multiple modes of operation and different systems that need to communicate with each other seamlessly to give the city's firefighters the best possible tool for the future. Vigor, Jensen and many great suppliers did a great job pulling together as a team to make that intricate systems integration happen within the delivery schedule."
Cummins was key to the vessel's pumping and propulsion power. The vessel features three QSK19-M US EPA Tier 3 engines that provide 750hp at 1,800RPM pumping power to Counterfire ESF 300-550 with capacity for 6,000 gpm each - total of 18,000 gpm of flow with all three engines in pumping mode. Power is transmitted to the pumps via three Logan LC318 SAE #0 air actuated clutches and Elbe cardan shafts with a Centa Centaflex-R flywheel mounted torsional coupling.
In addition to providing pumping power, the two outboard engines also provide 591hp at 1,800RPM for propulsion operations from the front of the engine. Propulsion power is transmitted through a Centa CX-56 torsional coupling and a Reintjes WAF 364 reduction gear provided by Karl Senner. Special attention was paid in noise and vibration reduction by the designers. All three engines are mounted on Christie & Grey TSC T-10 vibration isolators resulting in excellent performance.
"It truly was a team effort to engineer solutions for this impressive vessel," said As Joe Tobin, Cummins Project and Commissioning Lead. "The suppliers brought the best products and people together."
The new fireboat will be christened on October 17, which also happens to be the anniversary of the 1989 Loma Prieta earthquake. This infamous quake burst the domestic water lines beneath San Francisco. Should this happen again, Fireboat 3 (as it is currently called) will be there to ensure the Auxiliary Water System has the water needed to protect the City's citizens and property.