Fresh Paint Job for the Queen Mary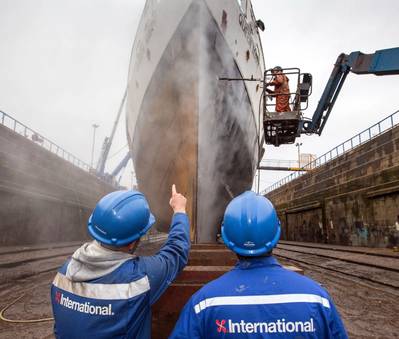 Restoration work has started on iconic steamship TS Queen Mary, which is in the process of being transformed into one of the U.K.'s largest interactive maritime exhibits.
Regarded as the vanguard of 1930s Scottish engineering, Queen Mary was built in 1933 and is the last of its class in the world. Now the 252-foot vessel is set to become a visitor attraction which will make a major social contribution to the City of Glasgow.
As part of the vessel's transformation, specialist coatings supplied by AkzoNobel's International brand are being applied to the ship at dry dock in Greenock. When the work is complete, she will be berthed on the
River Clyde
at the heart of with Glasgow's Finnieston hub, where visitors will then be able to experience the heritage, design and culture of the art deco 1930s.
"The paint on any ship serves more than just a cosmetic purpose, it is essential to protect the vessel from salt water and the weather," explained Iain Sim, trustee of the Friends of TS Queen Mary charity, who saved the vessel from being scrapped in 2015. "
AkzoNobel brings
centuries of expertise, giving us absolute confidence the meticulous and delicate job of repainting the Queen Mary will be handled with the utmost care and attention."
"The Queen Mary is a legacy of
Scotland
's great shipbuilding industry and will be a world class example of maritime heritage conservation," said Oscar Wezenbeek, Managing Director of AkzoNobel's Marine Coatings business. "We are proud to be involved in restoring such an iconic vessel."
Wezenbeek continued, "By providing sustainable, high performance coatings, we are sure TS Queen Mary can continue to be enjoyed and admired in all her glory and help to inspire future generations for many years to come."